The best women's jewelry isn't just a glittering trinket or status symbol. It tells a story. The best jewelry brands create treasured possessions and reminders of a special person or moment.
Whether you're all about the classics—diamond rings, stud earrings, or a simple pendant—or someone who favors the cool and edgy—a dozen earrings in a single ear, stacks of rings, and layered necklaces—who doesn't get a thrill from a new piece of jewelry?
Today the best designer jewelry brands are producing exciting new creations at affordable prices. So adding new additions to your (admittedly rather full) jewelry box is less a guilty pleasure than a wise investment—right?
There are those jewelry brands that need no introduction, such as Tiffany & Co. with its little blue box instantly recognizable around the world. It's one of the most influential and iconic jewelry brands to date.
But not every woman wants to wear jewelry by such a famous label, instead preferring something a little different—a little less well-known. So we've picked out some designers that you may not yet have had the pleasure of encountering. These brands are true hidden gems (excuse the pun) and their collections are definitely worth perusing.
So whether you're looking for a gift for a wife, girlfriend, mother, daughter, or close friend—or if you want to treat yourself (we're not judging) to something glittery, these are the best designer jewelry brands for women today. 
The 13 best designer jewelry brands for women in 2020
| Rank | Brand |
| --- | --- |
| 1 | Bryan Anthony's |
| 2 | gorjana |
| 3 | Cuyana |
| 4 | Capsul |
| 5 | Ariel Gordon |
| 6 | Fernando Jorge |
| 7 | Barkev's |
| 8 | Camille Jewelry |
| 9 | Bonito |
| 10 | Charles & Colvard |
| 11 | Sincerely Silver |
| 12 | TOUS |
| 13 | Capucinne |
To help you find the jewelry brand that's best for you, check our style guide to choosing the best jewelry brand for women after the list.
Bryan Anthony's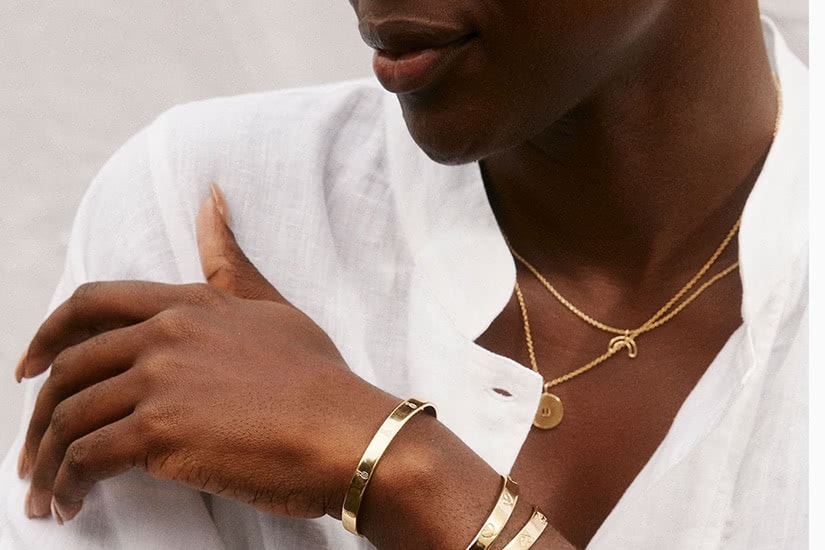 For jewelry that isn't just nice to look at but is imbued with a deep and profound significance, Bryan Anthony's is a cut above the rest—and one of the best designer jewelry brands out there. Named after the co-founder's brother—who tragically passed away at a young age—the ethos of the brand is all about living a meaningful life.
The results are beautifully considered and thoughtful pieces, each with its own message. Take the Pause necklace, for example, designed to remind you to take a moment to breathe, helping you to regain strength in difficult moments. Or the Beautifully Broken bracelet, a reminder that there is beauty even in our imperfections and flaws.
We especially love Bryon Anthony's designs that come in pairs—one for you and one for a special someone. The Through Thick & Thin necklaces, for example, or the Soul Sisters rings—the perfect present for you and your best friend.
Style: thoughtful jewelry with a message